Podcasts, Gaming, and Cosplay – June 2016
I'm officially pumping the brakes on my life. I have so much stuff I'm trying to do, and while I love it all, I can't do it all. I do not have the adequate vocabulary to explain how much I mean that. So, because I have to cut back somewhere, I'm going to give myself permission to cut back somewhere. I don't know where yet. Probably gaming. That's almost always the first thing I sacrifice after sleep.
What I'm listening to – Podcasts
I'm not really into listening to other people talk. I prefer to read more than listen, so podcasts haven't really been a thing for me. But lately I've been trying some out. It's challenging because when I'm at the computer I'm usually writing or working on something, but now that I'm about to really start deep-diving into cosplay, I might start regularly listening to podcasts while I work.
Despite not being a hardcore podcast listener, here are a few I've checked out more than twice.
Black Girl Nerds – A podcast about all things Blerdy and girly. Black Girl Nerds is an awesome platform for the voices of Black women. They have a super strong Twitter audience and are consistently discussing pop culture and Blerd life. The podcast is very focused and often has celebrity interviews and relevant topics.
+ 10 Melanin – This is a gaming podcast by Black women gamers. It's definitely interesting. I enjoy listening because they talk about things that I talk about when gaming – like character creation, which is always problematic. They play EVERYTHING! Like, I don't even know how they have the time to do all the gaming they do. Then again, I manage to play two different match three games a day. I just struggle with the story-based games because of the time commitment.
All Podcasts Matter – This is a comedy podcast hosted out of the California Bay Area. This podcast is pretty interesting but has some missteps. They tend to use "retarded" as a descriptor quite a bit and are currently struggling to stop using the word "rape" as a joke. I've listened to a few podcasts and I have yet to make it through one without flinching. In their favor, they are receptive to criticism of problematic language and you actually hear them try to self-correct. That's a huge bonus because people tend to double down on that nonsense. I can appreciate the transparent course correction.
What I'm playing
This weekend we binged on Riders of Icarus, the Beta test. My S.O. is such a hardcore MMO player. He is forever on the quest for the perfect MMO. Or just something new. I'm actually 100% unsure of what his gaming motivation is, but he could honestly host a podcast doing nothing but talking about the games he likes and why.
I, on the other hand, just enjoy the interaction. I will go see a bad movie if I'm going with friends. I will go out to eat when I'm not hungry if I like the company. I'm mostly indifferent to MMOs but I love playing them with my S.O. I like the interaction, the fuck-ups. The successes. Sometimes we get into a zone where we are just so in sync that everything feels seamless. Mostly though, mostly I just run around fucking shit up and not listening or reading the quests.
Since the beta is only open for a week, and I didn't download it until Friday, I'm binging as much as I can.
We've been live-streaming our gameplay on Twitch but if you're interested in seeing what shitty gameplay is like, I've posted the videos on YouTube.
Blade and Soul
Yeah, I'm still playing this shit. Actually, I'm starting to get into the story…finally. It usually takes about 30 levels before I start to care. Ain't that a bitch? I think that's just when I finally get used to the combat and finally have enough of a story to remember any of it. *shrug* I am having fun though, so after this Riders of Icarus marathon, I'll start that one up again.
What I'm doing – cosplay edition
I have a panel this Saturday at the State of Black Science Fiction Conference. I'll be discussing Cosplay in Non-Canon Bodies so if you're in town, stop by. It's being held at the Southwest Arts Center in Atlanta, Georgia at 4 pm.
As previously mentioned, it's time to ramp up the cosplay prep for DragonCon. I haven't started. HA! And that's bad because I have a really complicated costume that my time limitations are about to make…less complicated, aka janky. Wish me luck. Since Facebook has this glitch live streaming feature now, you might catch me online crafting sometime. It'll be random as hell, though. Just like me.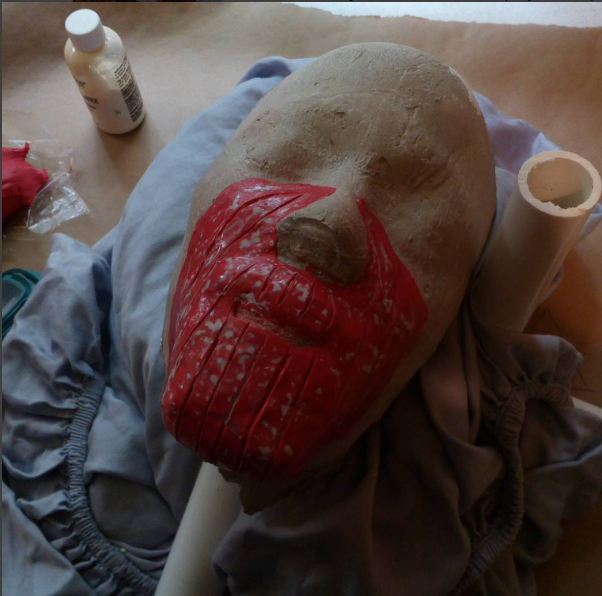 I'm also prepping for HeroesCon. This will be my first out of state convention. I plan to keep it low key, i.e. no super complicated cosplay, but you know, a little cosplay. Maybe. We'll see how I feel when I get there. I'm bringing Thanos, and hopefully, the prosthetic I just spent three days making will work, but we'll see (see photos). As for what's on the agenda when I get back? Some rest followed by some crafting because DragonCon is in 3 months and I haven't started yet. YAY! BOO!
So that's it for now. Panel, out of state convention, gaming, live streaming, crafting, and listening to podcasts Somewhere in there I go to work, too.
Laterz!
Oh, I did mention I'm random, right? So sometimes I stream on my Facebook page, sometimes I stream on Twitch which I then post to YouTube, and I'm often just rambling on Twitter. Ok, not often but daily. Is daily considered often? Probably. See, rambling. Just like that. Anyway, check out those if you actually want to really see behind the curtain. It's not pretty.